Before I post my Manic Monday pictures, I have to give a big thanks to Sarah over at Mommy Elephant's Everyday Adventure for hosting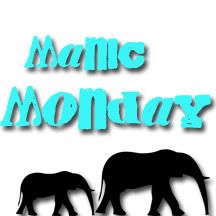 All right then, now to the pictures!
Alexander has figured out that he can move the folded step ladder over to the counter by himself. He can almost set the thing up, too. It makes it easy to have him wash his hands, but forget about getting anything else done in there.
I added a but of puffy paint to the bottom of Alexander's hand knit socks. I feel as if I ruined them somehow (I spent a lot of hours knitting those bad boys). I know that the puffy paint will make them less slippery.
Mmmmm
...fake chicken pot pie for dinner!
Blocks, blocks, blocks.
Laundry done!
Not bad considering that all this is after I get home from work!